How to protect your airbnb in Columbia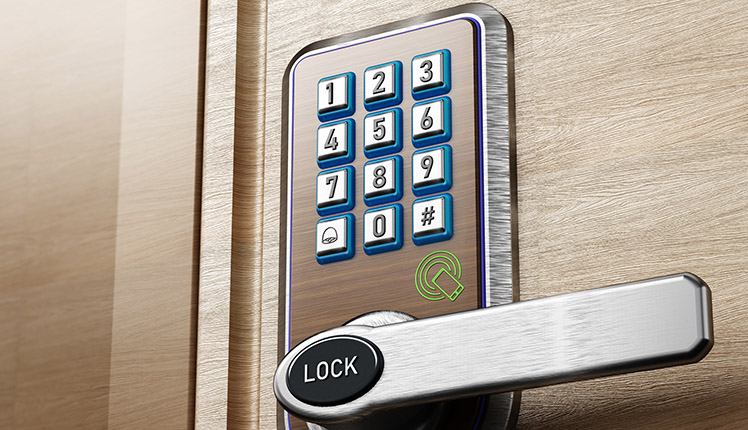 Regardless of whether you rent out your family's cottage or have an assortment of Airbnbs, you may find it challenging to protect your rental properties in Columbia. Unless you're stay on site, it's normal to wonder about keys getting copied or past renters unexpectedly showing up. In addition, what would you do if there's a flood or fire at the property while you're offsite?
From smart locks to completely automated home security packages, here are some helpful tips on how to protect your Airbnb in Columbia.
Stop hiding keys with your Columbia smart locks
When a visitor checks out, they may follow your instructions and provide the keys for the next guest. Although, if a tenant snatched or made a copy of a key, it would be possible to sneak back in sometime in the future. Needless to say, you could switch out your locks when a key is lost, but that is not a timely or cost-effective solution.
Thankfully, you can install smart door locks that work along with your home's security to put these concerns at ease. Then, you can issue each visitor their personalized access code. When they check out, don't worry about a key dropoff. All you need to do is program the codes to expire when they vacate the property. If former inhabitants reappear and attempt to use their previous access code on the keypad, you will receive an update of the failed attempt on your smartphone.
A smart security system makes vacant units appear occupied at all times
It's nice to think that your Columbia rental property will have guests, but that won't always be true. Despite this fact, you always want to make it appear that guests are there so your rental isn't a potential target for burglars. Installing a security system with home automation affords you the opportunity to use smart lights, motion sensors, and surveillance systems that make your rental look inhabited.
You can put your plan in motion by programming your smart lights to come on at specific hours of the night. Then, use your security smartphone app to alert you if your video cameras detect an intruder lurking in the dark or walking toward your main entrance. You have the opportunity to take advantage of the two-way audio functionality to make them know they're being watched or arrange for your smart lights to automatically illuminate when a camera or motion detection equipment identifies questionable movement.
Protect your Columbia rental property with around-the-clock monitoring
Your renters can sleep easy if they are safeguarded against intruders, especially when Columbia is not familiar to them. When a prowler makes an effort to gain entry, your home alarm system will not only sound a siren but will also ping your 24/7 monitoring professionals. Regardless of your location, emergency services will be dispatched. Your monitoring specialists will even act as your primary contact and communicate with you when you're available.
Besides intrusions, your monitoring hub can be linked to fire alarms, water sensors, and CO detectors. It can be harrowing for your guest if a water heater springs a leak or a fire breaks out. You will then get a cell phone update that a potentially dangerous event has happened, but a representative can also arrange for help from emergency personnel while you're on the way.
Request your new home security system in Columbia
Protect your Columbia rental with a home security system. Thankfully, Vivint has options like smart lighting, smart entry locks, and 24/7 monitoring. Reach out today and our home security experts will help you customize a system that's ideal for your property. Dial (803) 921-0946 or fill out the form to begin!